OVERVIEW
Home to nearly 100 million people, Vietnam's rich cultural heritage is fascinating to explore. On this 10 – day trip, you will learn loads and get to experience this amazing country at its dazzling best.
Some of the landscapes need to be seen to be believed, and sights such as the magnificent Ha Long Bay, the poetic Hue city, the ancient town of Hoi An, as well as the the beautiful rice-fields in the Mekong delta with its scenic floating markets will set your heart racing. With so much to see and do, this journey will leave you with unforgettable memories of a marvelous time spent exploring Vietnam.
ITINERARY
Vietnam and Its UNESCO Heritage Sites – 10 days 9 nights
DAY 1 - HANOI ARRIVAL [D]
Arriving at Noi Bai int'l airport in Hanoi, welcome by our local English - speaking guide.
Transfer to downtown to check in hotel (from 2PM only) or drop off luggage and take time for relaxing after the long flight.
5PM: Pick up and start an exploration of Hanoi Old Quarter on foot.
With more than 1000 years history, Hanoi is a city of contrasts where main roads and boulevards are a cacophony of traffic, but a few steps away tiny back streets are calm and peaceful.
6.30PM: Watch a water puppet show, a tradition that dates back as far as the 11th century when it originated in the villages of the Red River Delta area of northern Vietnam.
The puppets are made out of wood and then lacquered. The shows are performed in a waist-deep pool. A large bamboo rod supports the puppet under the water and is used by the puppeteers, who are normally hidden behind a screen, to control them. Thus the puppets appear to be moving over the water.
8.00PM Dinner Overnight at Hanoi
DAY 2 - HANOI: MEALS [B|L|D]
Breakfast at your hotel.
Proceed to visit the capital city:
The Ho Chi Minh Mausoleum(outside), a large memorial in Hanoi, located in the centre of Ba Dinh Square, which is the place where Pt Ho Chi Minh read the Declaration of Independence on September 2, 1945 and his house-on stilt;
One Pillar Pagoda, constructed by KIng Lý Thái Tông in 1049, by erecting a pillar in the middle of a lotus pond, similar to the one he saw in his dream that he met Avalokitesvara bodhisattva, who handed him a baby son while seated on a lotus flower.
Tran Quoc Pagoda, the oldest pagoda in Hanoi, dated back from the sixth century. With its harmonious architecture taking advantage of the watery landscape, the pagoda is a picturesque attraction. The sunset views from the temple grounds are renown.
Temple of Literature, Vietnam's first national university where offering ceremonies, study sessions and the strict exams of the Dai Viet took place. Built in 1070, it is one of several temples in Vietnam dedicated to Confucius, sages and scholars.
Lunch: Taste the "Pho", a Vietnamese soup consisting of broth, flat rice noodles, herbs and meat – usually beef, sometimes chicken. Pho is a popular street food in Vietnam and served in restaurants around the world.
PM visits:
Discover Hoan Kiem Lake, meaning "the Restored Sword Lake" , where emperor Le Loi's sword was grabbed by a turtle and quickly disappeared into the depths while he was boating on the lake.
Ngoc Son Temple, built on the Jade Islet and dedicated to Confucian and Taoist philosophers and the national hero, Tran Hung Dao, linked by a red wooden bridge.
Enjoy one - hour pedicab tour through small streets and tiny lanes of the 36 Guilds of the Old Quarter.
Transfer back to your hotel.
Overnight in Hanoi.
DAY 3 – HANOI – HA LONG: MEALS [B|L|D]
Hanoi to Ha long Bay (160km): 3hrs30mins
Breakfast at your hotel. 7:45AM Check-out and leave for a 3.5-hour drive to Ha long City.
Ha Long Bay, a UNESCO World Heritage Site,
is home to about 2,000 limestone islands rising from the water to astonishing heights. Legend says they were created by dragons who breathed out jewels into the bay to prevent enemy ships from coming ashore. For centuries, fishermen and merchants have navigated this archipelago, a labyrinthine emerald-green waterway winding among vertical cliffs draped in brush and forest. Board a shuttle boat upon arrival to transfer to your charming wooden junk for a relaxing cruise through one of the world's most magnificent landscapes. As we dock here overnight, you will have ample time to explore the bay and its surroundings. Welcome drink, then
check- in your cosy air-conditioned cabin with en-suite bathroom.
The junk starts to cruise towards the boundaries of Ha long bay while a delicious
lunch
with fresh seafood is served.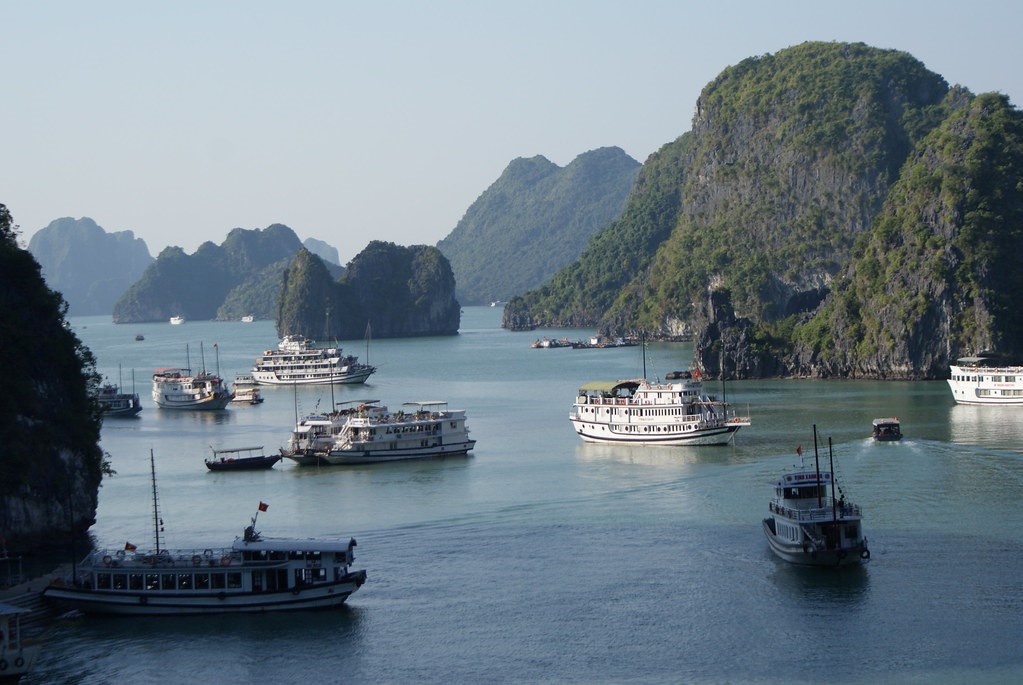 The junk navigates along the bay, next the mystic-like vista of thousands of small limestone islands rising from an emerald-coloured ocean, then pass by famous rock formations with unusual names such as "Stone Dog" and "Incense Burner." Stop to visit the enormous
Sung Sot Cave
to see the impressive rock formations, beautifully lit by sunlight passing through narrow openings. Next stop at
Titov Beach
, where you will have free time to climb up to the island's highest point for some of the most spectacular views of the bay. Alternatively, swim or just relax at the beach before returning to your junk before sunset, where you can taste some fruits while the junk sails till the anchorage area to spend the night offshore. The
dinner
will be served either inside or outside on the deck, depending on weather conditions. Overnight on board.
DAY 4 – HA LONG – HANOI – HUE: MEALS [B|L|D]
Flight 1 hour
6.00AM Free to join a 30-minute Tai Chi session at the first light of dawn, organized by Tai Chi master on board, to energize your body, mind and soul.
6.30AM Breakfast is served.
8.00AM Hop on a bamboo boat to visit Luon Cave by passing "Man Head Island", "Tortoise Island".
Back on the Junk to check out your cabin and start cruising back to the pier. Take a last glance at the emerging rocks, standing still as the eternal guardians of a kingdom
Disembark. Lunch at a restaurant next to the pier.
Route back to Hanoi, then to Hanoi Domestic airport for late PM flight to Hue
Arrival Hue, transfer to Hue for check in hotel.
Overnight in Hue.
DAY 5 - HUE: MEALS [B|L|D]
Breakfast at hotel.
Established as the capital city of unified Viet Nam in 1802, Hue was not only the political but also the cultural and religious centre under the Nguyen dynasty until 1945. The Perfume River winds its way through the Capital City, the Imperial City, the Forbidden Purple City and the Inner City, giving this unique feudal capital a setting of great natural beauty.
8.00AM Embark on a "dragon- boat" sailing on the Perfume River to enjoy an easy paced visit to the Thien Mu pagoda, one of the most beautiful religious buildings in Vietnam, built in early 1600's.
Then cross the Perfume River on a local boat to reach Thuy Bieu village, an ancient village located along the upstream bank of Perfume River. The village is a real maze of narrow alleys that will lead us to beautiful ancient houses with impressive gardens. However, the real treasure of Thuy Bieu village is its people, descendants of the Mandarins. Enjoy a gentle walk around and stop by at different places where you will be able to meet the villagers and taste some of their fruits.
Lunch at a local house.
On the way back to the city center, visit Emperor Tu Duc's tomb, 5km south of Hue city.
Born in 1829 and died in 1883, Tu Duc had reigned for over 35 years since 1848, longest among rulers of the Nguyen Dynasty. His tomb, with some 50 constructions surrounded by a 1,500 m long wall, was built during 1864 – 1867. Emperor Tu Duc was expert at philosophy, Oriental history and particularly literature (he left 4,000 verses and 600 prose works) yet failed to successfully rule the country. He was crowned king in the historical period of Vietnam facing the Western developing capitalism. Having no son to weary, to seclude himself, he ordered the construction of his tomb as a fairyland with poetical features, making it a lifetime recreation ground and a world for his eternal life after death.
With several palaces and specific man-made landscape, the tomb is a second Imperial City, an ideal and heavenly world. Architectural features of Tu Duc tomb are imbued with poetry and freedom. Perfect harmony is obtained of monuments and nature improved on landscape gardening, a Vietnamese form of art.
Transfer back to your hotel.
Overnight in Hue.
DAY 6 - HOI AN – HUE: MEALS [B|L|D]
Breakfast at hotel.
8.00AM Visit the Imperial City of Hue, once an enormous complex full of all the executive and bureaucracy you would expect from a country's capital. It was enclosed within a square fortress (also known as the Hue Citadel), with each of the four walls about 2 kilometres long and a wide moat on the outside. The Hue Citadel site was chosen by experts in 'geomancy' a spiritual science that looks for good omens in the natural landscapes. It was decided that the Perfume River and the mountains here would protect the city, because they represent dragons and white tigers.
Discover the Imperial Citadel, once the exclusive residence of the royal family and a UNESCO World Heritage Site.
Built along the Perfume River during the early 19th century, this walled fortress was heavily damaged during the Vietnam War. Enter through the towering main gate and admire the architecture and scenic gardens as your guide describes the events and intrigue of the royal court.
9.30AM Route to Hoi An ancient town, through Lang Co lagoon and Hai Van Pass.
Lunch upon arrival in a traditional restaurant, where you can sample some of Hoi An's most famous dishes.
Explore the historic town of Hoi An, a UNESCO World Heritage Site, one of Vietnam's delightful treasures. From the 17th to the 19th centuries, Hoi An was a prosperous trading port. Today, this ancient town boasts well-preserved buildings and delicious cuisine, allowing visitors a glimpse of its illustrious past.
Stroll along its narrow lanes and pass the old merchants' houses, influenced by Chinese, Japanese and Vietnamese architecture to see:
the 400-year-old Japanese Covered Bridge
the Assembly Hall of the Chaozhou Chinese Congregation, with its outstanding wood carvings.
Wander the colourful market and see stalls brimming with local products including beautiful yards of silk, which can be turned into beautiful garments within a few hours.
Visit an authentic lantern workshop to witness this ancient, colorful craft and try your hand at making your own.
Tan Ky Old House, in the Old Quarter of Hoi An, is an almost perfect example of a 18th merchant's residence in this major commercial port town. The name Tan Ky, meaning "Progress Shop", was given to the house by the second generation to express the owner's wish for a prosperous business. In spite of the decline in business of the town and the huge devastation of annual floods, seven generations of the family have continuously strive to keep the house in good condition. though it's not the oldest, Tan Ky is the most well-preserved in Hoi An.
Transfer to check in hotel
Overnight in Hoi An
DAY 7 – HOI AN – TRA QUE VEGETABLE village – HOI AN: MEALS [B|L]
Breakfast at hotel.
8.00AM Excursion to Tra Que Vegetable Village, 3km northeast of Hoi An Old Town.
This land was formed 300 year ago, surrounded by De Vong River and Tra Que Lagoon, so it has very good atmosphere with fresh air... From Tra Que village, vegetables of many kinds have been provided for restaurants, hotels, Hoi An's inhabitants as well as for other localities in Quang Nam Province and Da Nang City. Many kinds of organic and sweet smelling herbs have been planting in this area for ages. Tra Que raw vegetables have been added up to make aromatic flavour to specialities of this village such as Tam Huu, Banh Xeo, Quang Noodle, vegetable cooked with garlic and so on. Especially, the vegetable village also has several kinds of medicinal herbs.
Biking to a local farm in Tra Que Village.
Welcome drink: Basilic seed drink perfumed with mint leaf.
Short stroll around the vegetable garden and then you can join the farmers in preparing the land and fertilizing it with seaweed from the local lake. following steps are raking the ground, sowing, watering, picking vegetables and many other gardening activities.
After all these activities, you will take a short rest.
Enjoy foot bath by traditional medical methods ( your feet are soaked in a basin with boiled water cooked with some kinds of medicinal herbs gathered from gardens ).
Prepare lunch with a local family.
Your lunch will consist of many local delicacies including 'Tam Huu' spring roll, Banh Xeo or local pancake of people in Vietnam middle region. you can join the cooking with the chef on these meals.
Cycle back to Hoi An Old Town.
Free afternoon for leisure, shopping, relaxing next to the hotel swimming-pool.
Overnight in Hoi An
DAY 8 – HOI AN - DANANG - HO CHI MINH: MEALS [B|L|D]
Flight 1 hour 10mn
Early breakfast at hotel.
Transfer to Danang airport for morning flight to Ho Chi Minh City.
Ho Chi Minh City is easily the largest city in Vietnam and was regarded as the heart of Indochina during the French colonial period. Although the worst excesses of those days have gone, it remains the brash, exciting city originally known as Saigon.
Tour orientation with visits:
View the Reunification Palace, home of the president of South Vietnam during the Vietnam War.
Continue past the soaring neo-Romanesque Notre Dame Cathedral, with its twin bell towers, and the elegant Central Post Office—a masterwork of Gothic, Renaissance and French styles.
Stop for photos at the Municipal Theater, which was modeled after the grand Opéra Garnier in Paris.
Lunch at Sense Market Food Court in Central Saigon.
PM visits:
the richly ornamented Jade Emperor Pagoda, passing through its red lantern–adorned courtyard to admire the exquisite woodwork and statuary of the incense-fragranced inner sanctum.
Binh Tay Market in Chinatown, a colourful clothing marketplace
Chinese and Vietnamese herbal medicines quarter
a lacquer workshop where you can witness skilled artisans at work and browse their finely crafted wares before leaving.
Free time at Ben Thanh Market.
Transfer to hotel for check in.
Overnight in Ho Chi Minh City.
DAY 9 – HO CHI MINH – BEN TRE – CAN THO: MEALS [B|L|D]
Road transfer 140 km, approx.3 hours/ Boat trip & visits 3 hours
Breakfast at your hotel.
Depart to the Mekong delta, "the Nine Dragon river delta" or simply Vietnamese "Mekong river delta", also known as the Western Region or the South-western Region is the region in southwestern Viet Nam where the Mekong River approaches and empties in the sea through a network of distributaries.
With over 40,000 square km and more than 17 million of inhabitants, the region comprises 12 provinces along with the province-level municipality of Can tho. The landscapes are very varied, from wide open rice - fields to mangrove through coconut groves. The delta produces more than half the total agricultural produce of Vietnam, and is dubbed the "Rice basket of Vietnam". It is a very pleasant area to live, with a bountiful nature and charming people. Life in the delta is very much revolving around the river and its innumerable canals and tributaries. The river and its tributaries form a dense net of waterways, of which near 15,000 miles can be navigated by boats of over 100 tons in the delta alone, that is more than ten times the length of compacted road, that's the reason of so many floating markets.
Upon arrival at Ben tre – the Coconut capital – embark on a boat for a fascinating glimpse of life along Mekong River shores. Farmers and fishermen have earned a living here for generations, often living right on the water's edge in rustic homes.
During the cruise, you will have opportunity to see a lot of local boats carrying fruits, vegetables and fish.
Continue to the creeks of Cai Son and Nhon Thanh, where local families are specialized in making mats.
Visit a traditional factory making mats and baskets.
Then, enjoy a "xe loi" ride (motor cycle rickshaw) to discover the countryside: rice fields, orchards, vegetable crops.
Visit an orchard, the owner will offer tropical fruits of the season to taste: rambutans, mangoes, durians, papayas, grapefruits ... The most exotic of all is certainly the dragon fruit, with a small pineapple size, grown only in the south of the country. Its white and fragrant flesh is dotted with black seeds,
Visit a family workshop producing candies made from coconut milk and rice cake.
Lunch with elephant-eared fish, a delicacy in the Mekong delta.
Disembark and route to Can Tho.
Arrival and check-in hotel
Overnight in Can Tho.
DAY 10 – CAN THO – HO CHI MINH – DEPARTURE: MEALS [B|L]
Early breakfast at hotel.
The municipality of Can Tho, an ancient city of more than 200 years old, is located in the centre of the Mekong Delta. The economy and culture are closely linked to the river and canals. Can Tho is noted for its floating market, rice-paper-making village, orchards and picturesque rural canals. It is the best place to experience the daily life of inhabitants in the Mekong delta. All of economic, culture activities are closely related to river and canals, similar to "street" in a city. Can Tho has simple, poetic beauty with well-off villages under shade of coconut trees. It is wonderful to take a boat trip along the riverbanks on fine weather days.
Floating markets came into being since the past when there was no road system. Farmers organize themselves markets at the meeting point of several waterways to sell agricultural products from one boat to another. Each boat has a bamboo pole, on which products are displayed. Nowadays, even road system is established, Mekong delta farmers still keep the habit to sell their products at floating markets.
Visiting Can Tho, tourists will be impressed by floating markets. Visiting floating markets is one of the most attractive tours in Can Tho. Floating markets are situated on the banks of wide stretches of river. Cai Rang and Phong Dien Floating Markets are two of the major markets in Can Tho as well as in the Mekong Delta.
Embark on a local boat to explore Cai Rang floating market.
Cai Rang floating market, the largest wholesale floating market in the Mekong Delta, starts around 5am and runs until around midday. The market is about 6 km from Can Tho, or about a 40-minute boat ride. While floating down the river, you will glimpse life along its shores. You'll pass vibrantly painted boats anchored along the shore, merchant vessels carrying loads down the river and houses built on stilts over the water. Once you finally reach the market, it's an impressive site. A stretch of boats selling all variety of agricultural products. Boats identify what they are selling by hanging a sample off the top of a long pole.
Back to Ninh Kieu wharf.
Transfer to Binh Thuy House to have a short visit. The house belongs to Duong Family, built since 1870 and now lives Mr Dung Minh Hien, a descendant.  The house is also known as Binh Thuy orchid house as there is an orchid garden. This is the most ancient house in the Mekong delta, having a western architecture with big pillars outside but still keeps many traditional characteristics with carved and engraved wooden boards inside the house. Binh Thuy House has appeared in Vietnam's famous movies, especially the French movie L'Amant, which is screened in several countries around the world.
Lunch at Nam Bo restaurant in Can Tho.
Route Back to Ho Chi Minh city.
Transfer to Ho Chi Minh Int'l Airport for departure.