OVERVIEW
Explore the north of Vietnam on this overland trip through Mai Chau, Pu luong, then relax on a junk hotel for 2 days 1 night. Trek through local villages of the Mai Chau Valley, discover traditional stilt houses of the Uoi and Lan villages in Pu luong and cruise through Ha Long Bay.
ITINERARY
Northern Vietnam Adventure – 6 days 5 nights
DAY 1 – HANOI CAPITAL CITY – ARRIVAL: MEALS [L|D]
Arriving at Noi Bai int'l airport in Hanoi, welcome by our local English - speaking guide.
Transfer to downtown to check in hotel (from 2PM only) or drop off luggage and take time for relaxing after the long flight.
Upon arriving in Hanoi, enjoy a delicious lunch at a local restaurant before your exploration of the city begins.
Visit Hanoi - one of the oldest capital cities in the world, and one that has held this title for more than 1,000 years. Despite several battles that have raged over the city, Hanoi has retained the charm of bygone eras. Meet your guide and board your coach for a panoramic ride across the historic heartland of Vietnam, the Red River Delta.
Stroll around the Temple of Literature; with its peaceful walled courtyards and graceful gateways, this monument is one of the best-preserved examples of traditional Vietnamese architecture. Founded in 1070 and dedicated to Confucius, this was also the site of Vietnam's first university. Take a drive up to the city's bustling Old Quarter to admire the mix of French and Chinese influences with traditional Vietnamese architecture, exploring the atmospheric streets.
Enjoy charming Hoàn Kiếm Lake, a focal point of Hanoi's social atmosphere, before watching a traditional water puppet show at a local theatre - a tradition that dates back as far as the 11th century when it originated in the villages of the Red River Delta area of northern Vietnam.
The puppets are made out of wood and then lacquered. The shows are performed in a waist-deep pool. A large bamboo rod supports the puppet under the water and is used by the puppeteers, who are normally hidden behind a screen, to control them. Thus the puppets appear to be moving over the water.
Overnight at Hanoi.
DAY 2 - HANOI – MAI CHAU: MEALS [L|D]
Hanoi to Mai Chau (150km): 4hrs
Depart Hanoi early morning for approximately 4-hour drive to Mai Chau located about 150 km southwest of Hanoi.  Just an hour beyond Hanoi, after Hoa Binh Town, the road weaves through mountains, fertile valleys and traditional villages.
Arrive in the picturesque Mai Chau Valley surrounded by spectacular karst rock formations and rice paddies. After lunch, spend the afternoon exploring the idyllic natural surroundings. Start the tour walking around 2- 4 hours through some villages in the Mai Chau Valley.
This evening enjoy a traditional Thai performance of music and dance. The Thai ethnic group has inhabited this area for centuries and much of their lifestyle and traditions have remained unchanged over the years.
Overnight in Mai Chau.
DAY 3 - MAI CHAU – PU LUONG: MEALS [B|L|D]
Mai Chau to Pu luong (54km): 2hrs Water wheels walk and rafting |3 km easy walk – 1.5 hours | 1 km rafting – 1 hours
Wake up among the peaceful and beautiful mountainous setting and enjoy breakfast.
Transfer to Pu luong by road via a breathtaking mountain pass with panoramic views of the valley. Spend some free time to explore the beautiful retreat. Lunch will be served at Pu luong Retreat.
Then, transfer to a suspension bridge over the Cham River and begin an easy trekking from 3 to 5km in search of stunning water wheels. Get up close to each wheel and discover how water is moved from river to handmade bamboo aqueducts via simple constructions of all sizes.
Transferred back to Pu luong Retreat for dinner.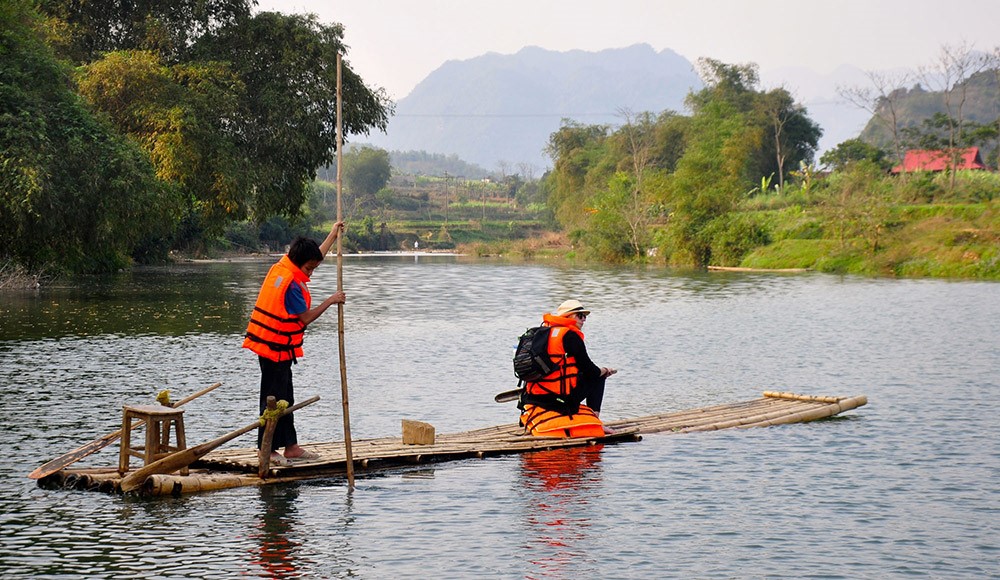 Overnight at Pu luong.
DAY 4 - PU LUONG – HALF-DAY TREKKING – HANOI: MEALS [B|L|D]
Enthralling trekking routes | 6 km easy walking – almost 3.5 hours
Wake up to the sounds of nature and enjoy a simple yet tasty breakfast among the tranquil setting of fields and mountains.
After breakfast, go on a 3.5-hour hike up and down narrow trails. Observe many traditional stilt houses of minorities and the lush canopies of greenery. Walk pass Uoi Village and Lan Village and admire the peaceful life of the villagers. Depending on the season, get to see the various farming activities and learn how colorful textiles are weaved together.
Then, transfer back to Pu luong Retreat for lunch.
Route back to Hanoi in the afternoon .
Overnight at Hanoi.
DAY 5 - HANOI – HA LONG: MEALS [B|L|D]
Breakfast at hotel.
7:45AM Check-out and leave for a 3.5-hour drive to Ha long City.
Ha Long Bay, a UNESCO World Heritage Site, is home to about 2,000 limestone islands rising from the water to astonishing heights. Legend says they were created by dragons who breathed out jewels into the bay to prevent enemy ships from coming ashore. For centuries, fishermen and merchants have navigated this archipelago, a labyrinthine emerald-green waterway winding among vertical cliffs draped in brush and forest.
Board a shuttle boat upon arrival to transfer to your charming wooden junk for a relaxing cruise through one of the world's most magnificent landscapes. As we dock here overnight, you will have ample time to explore the bay and its surroundings.
Welcome drink, then check- in your cosy air-conditioned cabin with en-suite bathroom.
The junk starts to cruise towards the boundaries of Ha long bay while a delicious lunch with fresh seafood is served.
The junk navigates along the bay, next the mystic-like vista of thousands of small limestone islands rising from an emerald-coloured ocean, then pass by famous rock formations with unusual names such as "Stone Dog" and "Incense Burner."
Stop to visit the enormous Sung Sot Cave to see the impressive rock formations, beautifully lit by sunlight passing through narrow openings.
Next stop at Titov Beach, where you will have free time to climb up to the island's highest point for some of the most spectacular views of the bay. Alternatively, swim or just relax at the beach before returning to your junk before sunset, where you can taste some fruits while the junk sails till the anchorage area to spend the night offshore.
The dinner will be served either inside or outside on the deck, depending on weather conditions.
Overnight on board.
DAY 6 – HA LONG – HANOI: MEALS [B|L]
Enjoy a fresh morning in the middle of the bay, the sun rises on Ha Long bay in the morning and breakfast is served (brunch on some boats)
8.00AM Hop on a bamboo boat to visit Luon Cave by passing "Man Head Island", "Tortoise Island".
Back on the Junk to check out your cabin and start cruising back to the pier.
Take a last glance at the emerging rocks, standing still as the eternal guardians of a kingdom while the vessels cruises slowly through the magnificent rock formations and back towards wharf.
Disembark and transfer back to Hanoi, then to airport for departure/ other destinations.
Note: This tour may be subject to change depending on weather conditions.