OVERVIEW
"The journey of discovery is not to look for new landscapes, but to see things differently." (Marcel Proust)
Vietnam, with its stretched "S" shape, whose extremities are 1,650 km apart, offers you not only its varied landscapes from north to south, but also the opportunity to discover and understand the country & people, see differences in its daily life, food, culture, belief with yours.
Let them tell you the story of their country, you can admire their courage through many wars of invasion they must undergo to preserve their independence and keep their authenticity. Look at these women in the rice fields, their backs to the sun and their feet in the water, to better understand the love they have for work.
ITINERARY
Vietnam – Cities And Tribal Villages – 12 days 11 nights
DAY 1 – HO CHI MINH CITY: MEALS [L|D]
Arriving at Tan Son Nhat Int'l airport in Ho Chi Minh CIty, welcome by our local English - speaking guide.
Transfer to downtown to check in hotel (from 2PM only) or drop off luggage and take time for relaxing after the long flight.
Ho Chi Minh City is easily the largest city in Vietnam and was regarded as the heart of Indochina during the French colonial period. Although the worst excesses of those days have gone, it remains the brash, exciting city originally known as Saigon.
Tour orientation with visits:
the soaring neo-Romanesque Notre Dame Cathedral, with its twin bell towers, and the elegant Central Post Office—a masterwork of Gothic, Renaissance and French styles.
Stop for photos at the Municipal Theater, which was modeled after the grand Opéra Garnier in Paris.
a lacquer workshop where you can witness skilled artisans at work and browse their finely crafted wares before leaving the shop.
Lunch at Sense Market Food Court in Central Saigon.
PM visits:
Binh Tay Market in Chinatown, a colourful clothing marketplace
Chinese and Vietnamese herbal medicines quarter
Free time at Ben Thanh Market.
Transfer to hotel for check in.
Overnight in Ho Chi Minh City.
DAY 2 – HO CHI MINH – CAI BE – HO CHI MINH: MEALS [B|L|D]
Road transfer 140 km, approx.3 hours/ Boat trip & visits 3 hours
Breakfast at your hotel.
Visits (1 h15 mn)
the Reunification Palace, home of the president of South Vietnam during the Vietnam War.
the richly ornamented Jade Emperor Pagoda, passing through its red lantern–adorned courtyard to admire the exquisite woodwork and statuary of the incense-fragranced inner sanctum.
Depart to the Mekong delta, "the Nine Dragon river delta" or simply Vietnamese "Mekong river delta", also known as the Western Region or the South-western Region is the region in southwestern Viet Nam where the Mekong River approaches and empties in the sea through a network of distributaries.
With over 40,000 square km and more than 17 million of inhabitants, the region comprises 12 provinces along with the province-level municipality of Can tho. The landscapes are very varied, from wide open rice - fields to mangrove through coconut groves. The delta produces more than half the total agricultural produce of Vietnam, and is dubbed the "Rice basket of Vietnam". It is a very pleasant area to live, with a bountiful nature and charming people. Life in the delta is very much revolving around the river and its innumerable canals and tributaries. The river and its tributaries form a dense net of waterways, of which near 15,000 miles can be navigated by boats of over 100 tons in the delta alone, that is more than ten times the length of compacted road, that's the reason of so many floating markets.
Upon arrival at Ben tre – the Coconut capital – embark on a boat for a fascinating glimpse of life along Mekong River shores. Farmers and fishermen have earned a living here for generations, often living right on the water's edge in rustic homes.
During the cruise, you will have opportunity to see a lot of local boats carrying fruits, vegetables and fish.
Lunch with elephant-eared fish, a delicacy in the Mekong delta.
Continue to the creeks of Cai Son and Nhon Thanh, where local families are specialized in making mats.
Visit a traditional factory making mats and baskets.
Then, enjoy a "xe loi" ride (motor cycle rickshaw) to discover the countryside: rice fields, orchards, vegetable crops.
Visit an orchard, the owner will offer tropical fruits of the season to taste: rambutans, mangoes, durians, papayas, grapefruits ... The most exotic of all is certainly the dragon fruit, with a small pineapple size, grown only in the south of the country. Its white and fragrant flesh is dotted with black seeds,
Visit a family workshop producing candies made from coconut milk and rice cake.
Disembark and transfer to hotel for check in
Overnight in Ben Tre
DAY 3 – BEN TRE – CAI BE – HO CHI MINH CITY – DANANG – HOI AN MEALS: [B|L|D]
Flight 1 hour 10mn.  Road transfer 140 km, approx.3 hours
Breakfast at hotel.
8.00AM Depart to Cai Be to explore Cai Be Floating Market.
Floating markets came into being since the past when there was no road system. Farmers organize themselves markets at the meeting point of several waterways to sell agricultural products from one boat to another. Each boat has a bamboo pole, on which products are displayed. Nowadays, even road system is established, Mekong delta farmers still keep the habit to sell their products at floating markets.
Cai Be is the gateway to the Mekong Delta Vietnam, known for its lush tropical orchards, its typical fluvial river floating market, and its ancient houses dating back hundred years ago.
Cai Be, one of the many well-known floating markets in the western region of southern Vietnam, was formed during the Nguyen Dynasty in the 19th century. The floating market of Cai Be is always busy and presents all the characteristics of the life of the inhabitants of the western region. All goods are transported to the market by rafts and boats. Every day, lots of boats and rafts in the delta gather here to trade and do business. Although the market is often open all day, the liveliest time is at sunrise. Some sellers visit the market to purchase products from the merchant. Then, these will be brought back the markets on land for sale.
Enjoy a cruise by rowing boats in small canals.
Disembark and transfer back to Ho Chi Minh city, then to the domestic airport for departure to Danang.
Arriving Danang, pick up & transfer to Hoi An ancient town.
Check in hotel.
Overnight at Hoi An.
DAY 4 – HOI AN – TRA QUE VEGETABLE village – HOI AN: MEALS [B|L]
Breakfast at hotel. 8.00AM Excursion to
Tra Que Vegetable Village
, 3km northeast of Hoi An Old Town. This land was formed 300 years ago, surrounded by De Vong River and Tra Que Lagoon, so it has very good atmosphere with fresh air... From Tra Que village, vegetables of many kinds have been provided for restaurants, hotels, Hoi An's inhabitants as well as for other localities in Quang Nam Province and Da Nang City. Many kinds of organic and sweet smelling herbs have been planting in this area for ages. Tra Que raw vegetables have been added up to make aromatic flavour to specialities of this village such as Tam Huu, Banh Xeo, Quang Noodle, vegetable cooked with garlic and so on. Especially, the vegetable village also has several kinds of medicinal herbs.
Biking to a local farm in Tra Que Village.
Welcome drink: Basilic seed drink perfumed with mint leaf.
Short stroll around the vegetable garden and then you can join the farmers in preparing the land and fertilizing it with seaweed from the local lake. following steps are raking the ground, sowing, watering, picking vegetables and many other gardening activities.
After all these activities, you will take a short rest.
Enjoy foot bath by traditional medical methods ( your feet are soaked in a basin with boiled water cooked with some kinds of medicinal herbs gathered from gardens ).
Prepare lunch with a local family.
Your lunch will consist of many local delicacies including 'Tam Huu' spring roll, Banh Xeo or local pancake of people in Vietnam middle region. you can join the cooking with the chef on these meals. Cycle back to Hoi An Old Town.
Cycle back to Hoi An Old Town. Free afternoon for leisure, shopping, relaxing next to the hotel swimming-pool. Overnight in Hoi An
DAY 5 – HOI AN – HUE: MEALS [B|L|D]
Breakfast at hotel.
Route to Hue via Lang Co lagoon and Hai Van pass.
Lunch upon arrival.
Established as the capital city of unified Viet Nam in 1802, Hue was not only the political but also the cultural and religious centre under the Nguyen dynasty until 1945. The Perfume River winds its way through the Capital City, the Imperial City, the Forbidden Purple City and the Inner City, giving this unique feudal capital a setting of great natural beauty. Hue & its monuments  are classified UNESCO World Heritage site in 1993.
Visit Emperor Tu Duc's tomb, 5km south of Hue city.
Born in 1829 and died in 1883, Tu Duc had reigned for over 35 years since 1848, longest among rulers of the Nguyen Dynasty. His tomb, with some 50 constructions surrounded by a 1,500 m long wall, was built during 1864 – 1867. Emperor Tu Duc was expert at philosophy, Oriental history and particularly literature (he left 4,000 verses and 600 prose works) yet failed to successfully rule the country. He was crowned king in the historical period of Vietnam facing the Western developing capitalism. Having no son to weary, to seclude himself, he ordered the construction of his tomb as a fairyland with poetical features, making it a lifetime recreation ground and a world for his eternal life after death.
With several palaces and specific man-made landscape, the tomb is a second Imperial City, an ideal and heavenly world.
Architectural features of Tu Duc tomb are imbued with poetry and freedom. Perfect harmony is obtained of monuments and nature improved on landscape gardening, a Vietnamese form of art.
Transfer to hotel for check in.
Overnight in Hue.
DAY 6 – HUE – HANOI: MEALS [B|L|D]
Flight 1 hour
8.00AM Embark on a "dragon- boat" sailing on the Perfume River to enjoy an easy paced visit to the Thien Mu pagoda, one of the most beautiful religious buildings in Vietnam, built in early 1600's.
Then cross the Perfume River on a local boat to reach Thuy Bieu village, an ancient village located along the upstream bank of Perfume River. The village is a real maze of narrow alleys that will lead us to beautiful ancient houses with impressive gardens. However, the real treasure of Thuy Bieu village is its people, descendants of the Mandarins. Enjoy a gentle walk around and stop by at different places where you will be able to meet the villagers and taste some of their fruits.
9.30AM Bus transfer to the Imperial City of Hue, once an enormous complex full of all the executive and bureaucracy you would expect from a country's capital.
It was enclosed within a square fortress (also known as the Hue Citadel), with each of the four walls about 2 kilometres long and a wide moat on the outside. The Hue Citadel site was chosen by experts in 'geomancy' a spiritual science that looks for good omens in the natural landscapes. It was decided that the Perfume River and the mountains here would protect the city, because they represent dragons and white tigers.
Discover the Imperial Citadel, once the exclusive residence of the royal family and a UNESCO World Heritage Site.
Built along the Perfume River during the early 19th century, this walled fortress was heavily damaged during the Vietnam War. Enter through the towering main gate and admire the architecture and scenic gardens as your guide describes the events and intrigue of the royal court.
Lunch at a local restaurant in Hue.
Visit Dong Ba Market, the oldest, biggest market in Hue ancient capital city.
For Vietnamese people, markets are considered a beloved place, showing all most the culture characters of a local area. Dong Ba market is the biggest and busiest trading center, 100 m from Truong Tien Bridge and along the north bank of the Perfume river.
Compared to other Hue markets, Dong Ba is not only a trading place. Coming here, you can have a chance to know more about culture and history of Hue. With an area of 5.000m2, including a three- floor building,
Dong Ba market has a food court where you can find any food you want from common dishes to specialties with affordable prices, a  handicrafts area where you'll have opportunity to get some handicrafts for yourself or friends and family, a clothing area where there are all of necessary such as footwears, hats, crafts, clothes.
Transfer to Phu Bai airport of Hue for flight to Hanoi.
Arrival at Hanoi, transfer to city centre for check in hotel.
Overnight in Hanoi.
DAY 7 – HANOI – HA LONG: MEALS [B|L|D]
Hanoi to Ha long Bay (160km): 3hrs30mins
Breakfast at your hotel.
7:45AM Check-out and leave for a 3.5-hour drive to Ha long City.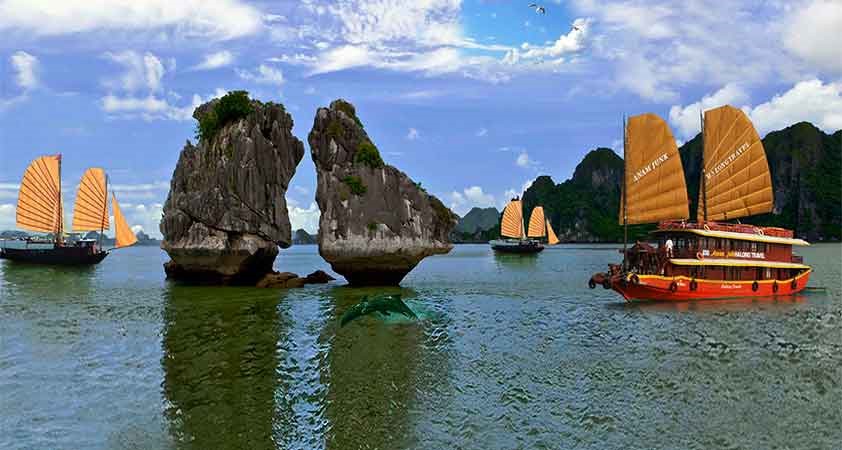 Ha Long Bay, a UNESCO World Heritage Site, is home to about 2,000 limestone islands rising from the water to astonishing heights. Legend says they were created by dragons who breathed out jewels into the bay to prevent enemy ships from coming ashore. For centuries, fishermen and merchants have navigated this archipelago, a labyrinthine emerald-green waterway winding among vertical cliffs draped in brush and forest.
Board a shuttle boat upon arrival to transfer to your charming wooden junk for a relaxing cruise through one of the world's most magnificent landscapes. As we dock here overnight, you will have ample time to explore the bay and its surroundings.
Welcome drink, then check- in your cosy air-conditioned cabin with en-suite bathroom.
The junk starts to cruise towards the boundaries of Ha long bay while a delicious lunch with fresh seafood is served.
The junk navigates along the bay, next the mystic-like vista of thousands of small limestone islands rising from an emerald-coloured ocean, then pass by famous rock formations with unusual names such as "Stone Dog" and "Incense Burner."
Stop to visit the enormous Sung Sot Cave to see the impressive rock formations, beautifully lit by sunlight passing through narrow openings.
Next stop at Titov Beach, where you will have free time to climb up to the island's highest point for some of the most spectacular views of the bay. Alternatively, swim or just relax at the beach before returning to your junk before sunset, where you can taste some fruits while the junk sails till the anchorage area to spend the night offshore.
The dinner will be served either inside or outside on the deck, depending on weather conditions.
Overnight on board.
DAY 8 – HA LONG – HANOI – LAO CAI: MEALS [B|L|D]
Night train Hanoi – Lao Cai
6.30AM Breakfast is served.
8.00AM Hop on a bamboo boat to visit Luon Cave by passing "Man Head Island", "Tortoise Island".
Back on the Junk to check out your cabin and start cruising back to the pier.
Lunch on board,
Take a last glance at the emerging rocks, standing still as the eternal guardians of a kingdom
Route back to Hanoi.
Enjoy one-hour water puppet performance.
Water puppetry is a tradition that dates back as far as the 11th century when it originated in the villages of the Red river delta area of northern Vietnam. The puppets are made out of wood and then lacquered. The shows are performed in a waist-deep pool. A large bamboo rod supports the puppet under the water and is used by the puppeteers, who are normally hidden behind a screen, to control them. Thus the puppets appear to be moving over the water. When the rice fields would flood, the villagers would entertain each other using this form of puppet play.
Transfer to the railway station to board the night train to Sapa.
Overnight on train (A/C soft sleeper - 4 persons/ cabin). Depart at # 9 PM.
DAY 9 – LAO CAI – WEEKLY MARKET – SAPA: MEALS [B|L|D]
Arrive at Lao Cai railway station at #6AM.
Breakfast at a restaurant next to Lao Cai railway station.
The highland region in the Northwest of Vietnam is famous for spectacular landscape, wonderful villages of the ethnic groups, the rice terrace, and especially, the busy and unique weekly markets.
Transfer to one of the following weekly markets (appropriate to your travel date)
Bac Ha on Sunday
Muong Hum on Sunday
Coc Ly on Tuesday
Cao Son on Wednesday
Muong Khuong on Thursday
Can Cau on Saturday
Lunch at the market.
Transfer back to Lao Cai, then drive uphill to Sapa.
Check in hotel
Overnight in Sapa.
DAY 10 – SAPA: MEALS [B|L|D]
Breakfast at your hotel. Sapa, located near the Chinese border, is home to many hill tribes and lush vegetation. Its largest ethnic communities are H'Mong and Dao, with the Kinh, Tay, Dzay (Giay) and Dao Pho cohabiting together. and of Vietnam's highest peak - 
Fansipan Mount
. "the roof of Indochina". The mountains are plunged in a haze winding around the summits, offering a panorama so special that one called Sapa "Bourg in the clouds".
Morning visit at
Ta Phin village
, located at Ta Phin hamlet, Sa Pa district, about 12 km northeast of Sa Pa town, surrounded by mountains and has spectacular rice terraces. In Ta Phin, there are two ethnic minorities living in harmony. They are the
Red Dzao
, who form the majority, and the
Black Hmongs
, mostly gathered in the northern mountains - a minority ethnic group who are considered isolated mountain dwellers, poorly integrated and nomadic. A common sight in the village is to see Red Dzao women and girls sitting together, chatting and laughing, their eyes fixed on a piece of indigo-colored cloth. They make their embroidery and brocade products that are traded between the villages and sold to visitors. The locals are welcoming and will invite you to visit their home and show their way of life. The Red Dao are famous for the herbal bath. Back to Sapa to visit:
Sapa market where the most impressive feature is its unique brocade products in vibrant colors, and subtle patterns of the H'Mong, Dao Do, and Giay. On the other hand, products as fruits, vegetables, and spices are also favorite goods for tourists as well as souvenirs to get for your friends and relatives once visiting this market.
Sapa Church located in the heart of Sapa, known as stone church or the Holy Rosary, built by the French from the early 20th century. Before starting to build this structure, the French architect selected carefully the terrain. This architecture is presented in the roof, bell tower and gives an elegant aspect to the church. The church of Sapa is always a place where are hold many traditional cultural activities of ethnic minorities.
Lunch
at a local restaurant. Afternoon: Transfer by car to the
Muong Hoa valley
to hike from
Lao Chai village
to
Ta Van village
through beautiful landscapes overlooking vast rice terraces, clouds close to the ground and finally the green route (medium level hike) where you can meet
Black Hmong and Giay minorities.
Transfer back to tour hotel. Overnight in Sapa.
DAY 11 – SAPA – HANOI: MEALS [B|L|D]
Road transfer Sapa to Hanoi (320km): 5hrs10mins
Breakfast at your hotel.
Route back to Hanoi.
Arrival at # noon. Check in hotel.
Transfer to lunch, then proceed to visit the Vietnam capital city.
Hanoi, the administrative and political capital of Vietnam since 1976, located on the banks of the Red River is one of the most ancient capitals in the world, where travellers can find well-preserved colonial buildings, ancient pagodas, and unique museums within the city centre.  Active, overcrowded, with multiple small businesses located on the sidewalk, it offers a considerable artistic heritage and a certain charm.
A great place to explore on foot, this French-colonial city is also known for its delectable cuisine, vibrant  nightlife,  silks  and  handicrafts, as well as a multi-cultural community that's made up of Chinese, French and Russian influences.
Visit the historic Temple of Literature, dedicated to Confucius and all scholars and persons of high literary accomplishments.
Tran Quoc Pagoda, the oldest one in Hanoi, constructed in the 6th
Take a cyclo tour through Hanoi's vibrant Old Quarter.
Back to your hotel.
Overnight in Hanoi.
DAY 12 – HANOI - DEPARTURE: MEALS [B|L]
Breakfast at your hotel.
Morning visits:
Ho Chi Minh Mausoleum (outside only), a large memorial located in the centre of Ba Dinh Square, which is the place where Vietminh leader Ho Chi Minh read the Declaration of Independence on September 2, 1945.
His former residence, stilt house of Ho Chi Minh, the founder of modern Vietnam, fondly known as "Uncle Ho".
One Pillar Pagoda, The emperor Lý Thái Tông constructed the temple in gratitude for this in 1049 by erecting a pillar in the middle of a lotus pond, similar to the one he saw in the dream that he met the bodhisattva Avalokitechvara, who handed him a baby son while seated on a lotus flower
Free time for shopping.
Check out, then transfer to a local restaurant for lunch.
Transfer to Hanoi Int'l Airport for departure.